20 Aug

2015 Core Connections Business Expo + Speakers Series & TABJ Media Workshop

The Fuquay-Varina Chamber of Commerce will be hosting its sixth annual "Core Connection" Business Expo at the Fuquay-Varina Community Center on Thursday, August 27th from 10:00am to 4:00pm. This Expo celebrates the wide variety of new and existing businesses that have recently made southern Wake County a mecca for new business development.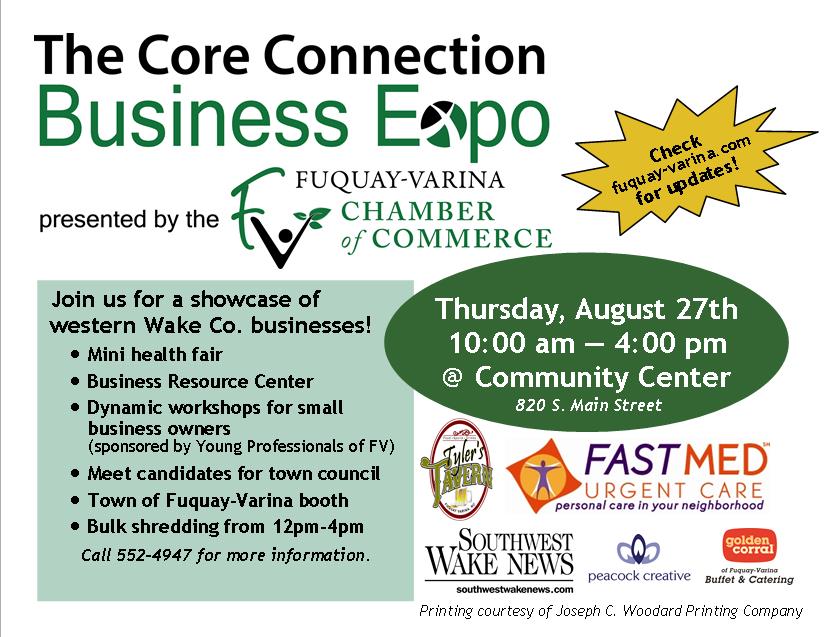 WHEN:
Thursday, August 27th from 10am to 4:00pm
WHERE:
Fuquay-Varina Community Center
820 S. Main Street
Fuquay-Varina, NC 27526
WHY?
— Business Expo
— Speaker Series (7 Local & Nationally Recognized Business Speakers)
— TABJ "Effective Media Engagement Workshop"
(Come Meet & Learn from Local TV, Radio, and Newspaper Personalities)
The Expo will include a two-track series of speakers and workshops, organized by Empowered Ideas, that will run concurrently with the general Expo activities throughout the day. These presentations will include top leadership experts, business resource partners with legal, social media, and technology backgrounds, and a dynamic hands-on workshop with top media personalities from around the Triangle presented by the Triangle Association of Black Journalists (TABJ). Specific times and speakers are listed below:
Speaker Series Schedule
10:00-10:45am "Using Data Driven Relationships to Build Engagement for Small Businesses"
Heather Kilcrease, Peak City Press
11:00-11:45am  |  "Broadband Access Systems for SMEs (Small to Medium Enterprises)"
Gilberto Guitarte, TE Connectivity
11:30am-1:45pm  |  TABJ "Effective Media Engagement Workshop"
Triangle Association of Black Journalists (TABJ)
— Ken Smith, Anchor/Reporter at WRAL-TV/FOX50 (WRAL-5)
— Tisha Powell WTVD, Anchor/Reporter at WTVD-TV (ABC-11)
— Christy L. Simmons, PR Director at NCCU
— Cash Michaels, Reporter at The Carolinian & WPTF Contributor
— Gayle Hurd, Radio Personality at WPTF/NC Network News
— Brett Chambers, TABJ President and Professor at NCCU
— Alice Fuller, President of Sheer Social
12:00-12:45pm & 2:00-2:45pm  |  "Innovate Fuquay-Varina Kickoff + Q&A Session"
James Wong, Empowered Ideas
1:00-1:45pm   |  "My One Word at Work – Change Your Life with a Simple Word"
Trey Baker, The Mustard Seed Company
2:00-2:45pm  |  "Authentic Leadership & Self Care for Small Business Entrepreneurs"
Kathleen O'Grady, Raleigh Coaching Academy
3:00-3:45pm  |  "The Aviator Story"
Mark Doble, Aviator Brewing Company
3:00-3:45pm  |  "Secure, Defend, and Conquer: Tips, Tricks, and Strategies from an Entrepreneurial and Legal Perspective."
Donna Berkelhammer, The Legal Direction
A highlight of this series of presentations and workshops will be the unveiling and kick-off of "Innovate Fuquay-Varina," a new entrepreneurial initiative of the Fuquay-Varina Young Professionals group. The details of this exciting new venture will be revealed at 12 noon at the Expo, and will include a Q&A session and the opening of registrations for the program.
The EXPO will include a Health & Wellness corner, free food samples by area restaurants, and a business resource center with lots of information for small and medium-sized businesses to explore. There will also be a Town of Fuquay-Varina booth with special appearances from our new police chief, Laura Fahnestock, as well as a Shredding Event for the general public from 12pm-4pm. Residents wishing to have materials shredded must attend the EXPO and get a shredding ticket before accessing the ProShred truck.
Sponsors for this event already include FastMed Urgent Care, Peacock Creative Services, Tyler's Tavern,Golden Corral, Joseph C. Woodard Printing Company, SouthWest Wake News, Jones Printing Company,Combined Insurance, Apex Instruments, Harris Teeter, and the town of Fuquay-Varina. Additional sponsorship opportunities are still available. For more information, contact the Chamber at (919) 552-4947.
#COREConnections #BusinessExpo #FuquayVarina #FV #InnovateFV #Innovate #InnovateFuquayVarina #Fuquay #SmallBusiness #Startups #Entrepreneurs #Entrepreneurship #Nonprofits #Mompreneurs #SupportLocal #SupportLocalFV #SupportFV #Solopreneurs #FVCreators #SouthernWake #Angier #WillowSpring #HollySprings #Raleigh