16 Jun

What is Coworking? What does a "Unique and Creative Work and Meeting Space" mean?

Written by James Wong, Co-Founder & Community Manager of Fuquay Coworking.

We get a lot of questions about "What is Coworking?" So, I wanted to post a blog post around the topic of "Coworking."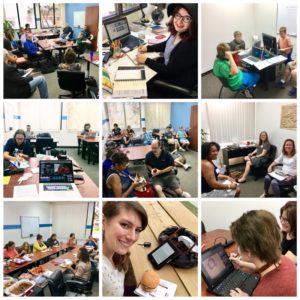 Coworking is a spared office environment that enables members to increase productivity while reducing costs when compared to renting a traditional office space.
In general, members of Coworking Spaces share knowledge and expertise with other members in the space, while also having the ability and privacy to conduct business or meetings in a professional, yet fun and creative, environment. Members pay a monthly membership fee to have access to the amenities and benefits of the space (amenities vary by coworking space).
Members select their membership type based on their individual needs. All of the office technology and supplies one would need to conduct daily work is available on-site. Clients and guests can meet members at the Coworking space for meetings and business, just like a traditional office, but with a larger more unique and professional environment.
Coworking spaces offer a variety of ambiance and culture. Some are geared toward technology & design, while others provide more creative and inspirational decor.  At Fuquay Coworking, we wanted to bring a touch of "Google" and Tech to Southern Wake, yet retain the "hometown professional" feel.
Having visited several Silicon Valley companies, including Google, we decided that Southern Wake was a perfect location to setup a coworking space, with a goal of bringing the concepts and creativity of RTP and Silicon Valley to Fuquay-Varina, NC.
At Fuquay Coworking, white barren walls are a rarity. We have murals, photo walls, skylines, and even a "retro gaming wall" as decor for various sections of our creative space.  New visitors are often blown away by the open environment, colorful yet non-distracting accents, and fun amenities like our retro table top arcade machine, Foosball table, and dedicated game room. Having a variety of creative spaces and meeting rooms, helps to support our members in their creative endeavors.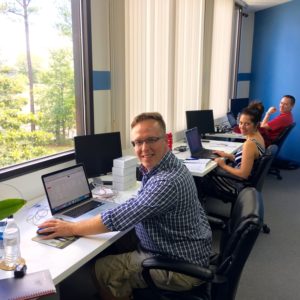 Benefits of Coworking (at Fuquay Coworking):
— Monthly Membership Fee (as low as $100/month)
— Executive Conference Room
— "The Link" Multi-Purpose Room
— "Varina Station" Conference Room
— Large Multi-Purpose Room
— Dedicated Game Room
— Kitchenette & Break Room
— Shared Desk Areas
— Office Equipment and Supplies
— High Speed Wired & Wireless Internet
— Commercial Laser B&W and Color Printers/Copiers
— Large Entrepreneurial Community
— Collaborative Environment
— Options for Dedicated Desks and Private Offices


What You Get with a Traditional Office:
— 6 or 12 Month Office Rental
— CAM Fees
— Utilities (may or may not be included)
— Small Office
— Technology & Office Supplies (NOT Included)
— Business Class Internet (NOT Included)
— No Access to Collaborative Environment/Community
Coworking spaces cater to all types of professionals.
— Entrepreneurs
— Nonprofits
— Telecommuters/Remote Employees
— Freelance Writers & Designers
— Business Service Professionals: Laywers, CPAs, Trade Technicians
— Mompreneurs
Typically Three Membership Types:
— Shared Desks (aka: "hot desks" – drop in and grab a desk)
— Dedicated Desks
— Private Offices
Interested in Coworking in Fuquay-Varina?
Learn more about Fuquay Coworking at: www.FuquayCoworking.com
Fuquay Coworking
1000 N Main Street, Suite 102
Fuquay-Varina, NC 27526
919.346.1735
FuquayCoworking.com
FB.com/FuquayCoworking
Twitter.com/FuquayCoworking