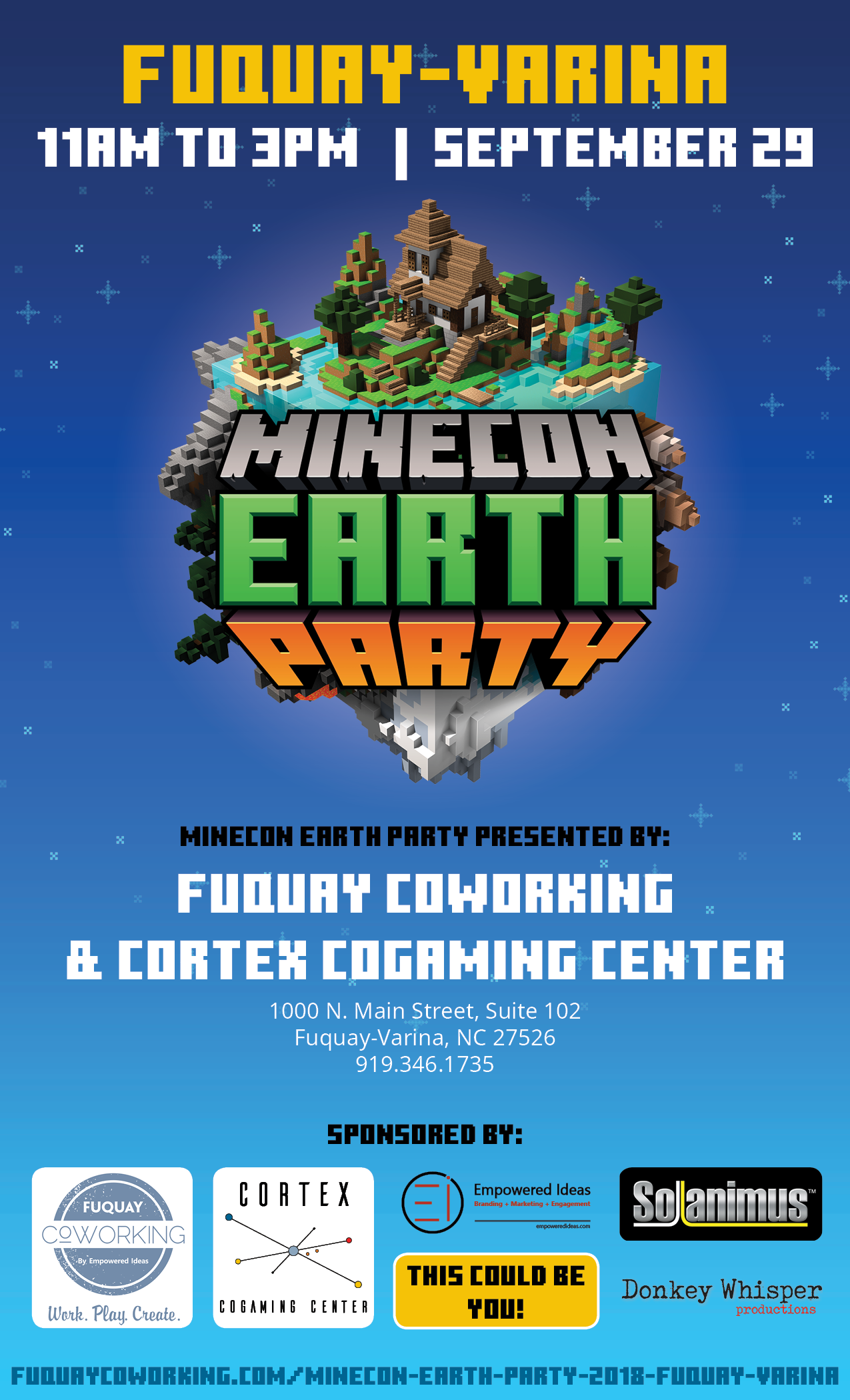 20 Aug

Fuquay Coworking Approved by Microsoft & Mojang to Host an Official MINECON Earth Party in North Carolina
Minecraft Fans UNITE!
…as we host an OFFICIAL MINECON Earth Party,
Presented by Cortex Cogaming Center and Fuquay Coworking in Fuquay-Varina, NC.
Saturday, September 29th, 2018 | 11AM to 3PM
Cortex CoGaming Center (at Fuquay Coworking)
1000 N. Main Street, Suite 102
Fuquay-Varina, NC 27526
919.346.1735
On Saturday, September 29th, 2018 we will be hosting an official MINECON Earth Party, a unique and exciting LIVE streaming event to their global audience of Minecraft fans. Sites all across the globe were approved as Official MINECON EARTH Party locations, and Fuquay Coworking/Cortex CoGaming was approved as one of the venues!
"Great that you are hosting a viewing party! Hope everyone will enjoy our show we have planned. I love that you are bringing in board games and empowering the guests to bring their laptops to learn from each other!"

— The MINECON / Microsoft Team (2017)
We will be streaming the event from a 65" 4K HDTV in our Event Space, and up to an additional (5) 55″ 1080p HDTVs will be available for the live stream and/or gaming during the entire event. There will be plenty of places to network, connect, and share your love of Minecraft with other local enthusiasts.
The event is FREE to attend, and is family friendly for ALL AGES.
We will be accepting DONATIONS at the door, if you'd like to help support this community event.
Costumes are allowed and encouraged, but not required.
Be creative and show your Minecraft enthusiasm! No costume? No problem. Join us!
We will have light snacks and beverages available, but feel free to bring some snacks to contribute. 🙂
High-Speed Wireless Internet is available for all guests, so bring your devices and feel free to connect.
Board Games, Card Games, and Console Games (PS3, PS4, Xbox One) will be Available to Play!
RSVP FOR THE PARTY:
https://minecon-earth-party-2018-fuquay-varina.eventbrite.com
FACEBOOK EVENT PAGE:
https://www.facebook.com/events/256084065241403/
*PARENTS: We have plenty of board games (and card games) for you to play, should you need some non-Minecraft entertainment. Please note that you will be responsible for yourself and guests, including your children.
**FAMILY-FRIENDLY: Fuquay Coworking is a family-friendly environment, however, it is still a workplace environment and we expect all guests to conduct themselves accordingly. No alcohol is permitted during this event. Thanks! 🙂
#Minecraft #MINECON #MINECONEARTH #ViewingParty #FuquayVarina #Fuquay #Varina #FV #FuquayCoworking #Coworking #SouthernWake #CortexCoGaming #Gaming