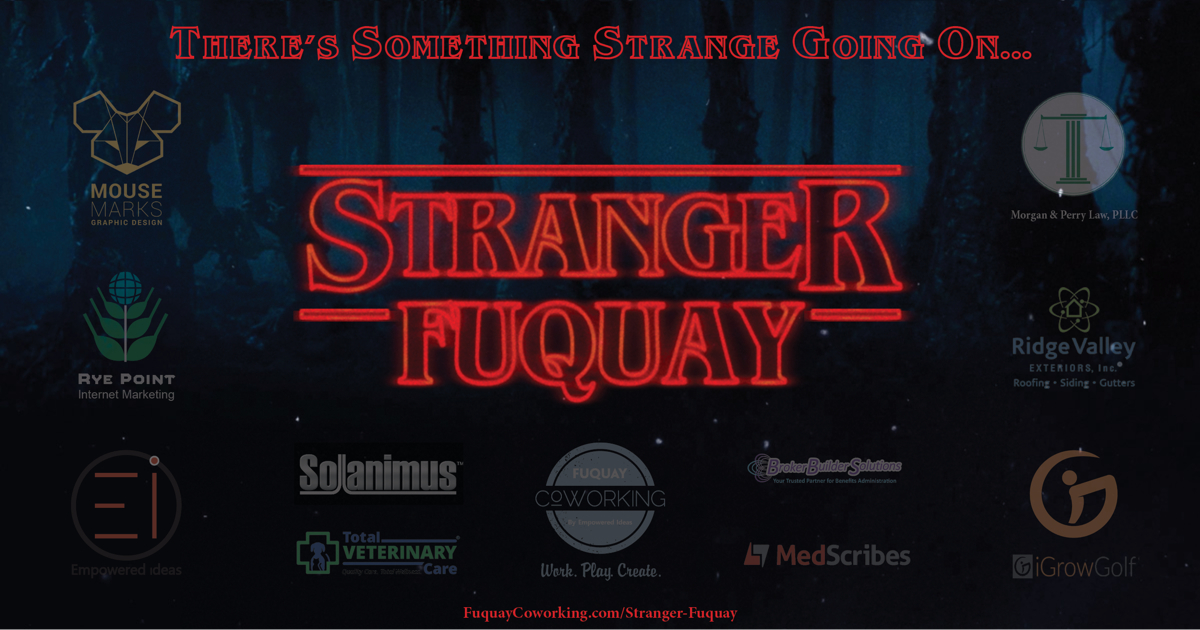 31 Oct

STRANGER-FUQUAY: Demystifying Coworking in Fuquay-Varina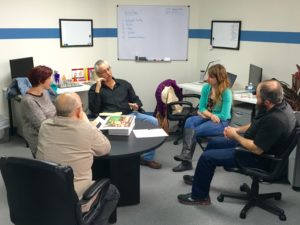 Much like Netflix's wildly popular Stranger Things television show, Fuquay Coworking has been creating quite a bit of "buzz" in the Fuquay-Varina business community ever since we opened our doors in late 2014. We've consistently advocated for the local community as a whole, and are proud to support the fastest growing entrepreneurial community in Southern Wake County — home to 50+ professionals and businesses that choose to headquarter their efforts at our creative space. Yet, we often still get the question "What is Coworking?"
The term "Coworking" is actually short for "Collaborative Working."  We provide a technology-focused, professional, modern, and fun work spaces for individuals of all industries. We offer a large number of amenities and benefits through exceptionally cost-effective membership-based packages.
There are Three Primary Membership Types:
Shared Desks — Come in, pick an available desk, setup, and get things done!
Dedicated Desks — Set up your private desk any way you wish. Come in and immediately get to work.
Dedicated Office Suites — The perfect mix between a traditional office, but with the added amenities and cost-savings of coworking.
Benefits of a Coworking Membership:
Multiple Conference & Meeting Rooms
Multiple Shared Desk Areas
Fix-It Workshop & Computer Lab
(2) Multi-Purpose/Training Rooms
Break Room & Kitchenette (including Coffee, Spring Water, & Tea Service)
Dedicated Game Room & Casual Meeting Lounge
Business Class High Speed Wired & Wireless Internet (4 Access Points)
Outdoor Coworking Area with WiFi
Enterprise-Level Laser Print/Copy/Scan
Office Equipment & Supplies Included
Lots of Whiteboards
Digital Displays for Presentations & Webinars
Mailbox Services — Genuine Business Address (Not a PO Box)
Bike Parking for Local Commuters
Outdoor Adventure Team
Large Entrepreneurial Community
Collaborative & Private Environments
Family Game Nights & Activities
Exclusive Member Discounts with Local Businesses
Entrepreneurship Programs
Complimentary Web Hosting for Select Membership Levels
The "Upside-Down" of Coworking… the Hidden Benefits
Coworking is not just about "cheap office space." Unlike traditional office spaces, it's the inclusion of amenities and community collaboration that sets coworking spaces apart from basic office space rentals.  Why pay several hundred dollars for an empty space with NO technology, NO additional spaces, and NO "mental health" break areas to escape to, when you really have to get those creative juices flowing?
Prior to opening Fuquay Coworking, our first office space for our marketing firm in Fuquay-Varina, NC cost us $500 a month for a small, single office (room).  Business-class cable internet ran us ~$150/month, and this did not include all of the office furniture, cabinets, printers, and general technology and supplies that we needed to get our business off the ground. We easily spent more than $2,000 our first year, just to get our office running smoothly. We thought this was the "way it's supposed to be," that is, until we opened Fuquay Coworking.
Fuquay Coworking aims to reduce that hurdle by providing almost all of the technology and space  a small business, startup, nonprofit, freelancer, or mompreneurs need to launch or maintain thriving businesses. Members simply pay a small monthly membership to have access to the ample technology and creative spaces available at Fuquay Coworking.
It's that simple. Come in, get things done, and have fun doing it. That's why 50+ members have chosen to headquarter their efforts at Fuquay Coworking.
Have More Questions? Visit Our FAQs or Contact Us!
---
Member Spotlights: Businesses at Fuquay Coworking
Not sure if you or your business fits at Fuquay Coworking? Check out just a FEW of the MANY businesses and organizations based at Fuquay Coworking…
Solanimus
Solanimus is a software company founded in 2011 with a vision to further computing and games into a new age of how the relationship between man and machine is understood. The company develops their own intellectual property alongside external projects and is available for contract software work. Solanimus has released several games of their own IP for a variety of platforms, including Signal to Noise, the music-driven rail shooter, and several applications for other organizations including web, desktop, and mobile applications.
Empowered Ideas
A nationally recognized holistic marketing firm for mental health organizations, government agencies, nonprofit coalitions, & small businesses… with a coast-to-coast client portfolio and over 40 years of combined expertise. Empowered Ideas helps small businesses and nonprofits through a comprehensive approach that takes into account the holistic needs of each client, and facilitates the integration of digital marketing, communications and business strategies into the existing business structure. We specialize in helping small to medium sized businesses and non-profits by addressing both the internal and external needs of their organization.
Morgan & Perry Law, PLLC
Morgan & Perry Law is dedicated to providing a holistic approach to legal services. The need for legal services can arise in emotional and stressful times. Our goal is to help you through these times with an eye to the future. No matter the legal issue, you are important to us. Practice areas include: Business Law, Estate Planning, Real Estate, and Family Law.
Broker Builder Solutions (BBS)
The mission of Broker Builder Solutions, LLC is to provide benefit brokers and human resources professionals with the expertise to meet their technology needs at the right price. The focus of BBS experts is on simplifying business processes for insurance brokers, clients, and carriers. The BBS team operates as an extension to the broker agency and delivers operational excellence in every corner of the company, while meeting or exceeding our commitments to the broker agencies we serve.
Expertise in the areas of: Case Implementation, OnBoarding/ACA Tracking/PTO Tracking Set Up, 834 EDI File Implementation, and Agency & EDI Support.
RyePoint Internet Marketing
We are a local Digital Marketing Company that promotes business to the Local Search Directories, Search Engine Optimization, WordPress Website Design, Development and Social Media Marketing. We promote clients sites by writing unique and SEO optimized content and keeping clients on top of the search engines by providing current and quality social media content. We specialize in helping our clients realize their dreams of growth and prosperity online. RyePoint is proud to provide our clients with an extraordinary level of friendly and professional customer service and follow-through. We offer a full range of integrated Internet marketing services that work synergistically to create maximum results.
Ridge Valley Exteriors (Fuquay-Varina, NC)
Over the past decade, Ridge Valley Exteriors has established ourselves as one of the most experienced and trusted roofing experts in Georgia, specializing in storm damage and insurance claims. There are a lot of roofing contractors out there, but there's only one team of Certified Rooftop Geniuses. We're the experts to talk to when you have any questions about your roof, and need an accurate assessment and quality craftsmanship.
iGrow Golf

iGrow Golf is an organization of passionate golf coaches who are dedicated to redesigning golf development using a long-term approach. iGrow believes that students should have a motivating development experience and it is up to golf professionals to provide affordable long-term golf programming.
iGrow currently runs the programming at 4 Raleigh area locations using the Operation 36 platform. Keith Hills Golf Club, Reedy Creek Golf Course, MacGregor Downs Country Club and The Hasentree Club in Wake Forest. Programming is available for juniors, ladies and men at all 4 locations.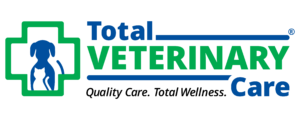 Total Veterinary Care (Corporate)
Total Veterinary Care™ believes that quality veterinary services are an integral part of your companion's overall well-being. Our staff treats each and every pet as if it was part of our own family. We partner with pet-parents to identify the unique needs of their companions. Our medical and philanthropic approaches demonstrate our dedication to advancing total animal wellness and our commitment to awareness and education.
Medscribes

Our mission is to support physicians with personalized scribe services in emergency departments, hospitals, and outpatient clinics across North Carolina. Our expertly-trained, pre-professional scribes help relieve the documentation burden on physicians, improve efficiency for administrators, and allow patients to reconnect with their providers.
Founded in 2015, we work hard each day to: Improve physician satisfaction and morale while reducing burnout; Assist providers in completing charts, often within minutes of leaving the patient's side; Offer provider support in maximizing utility of the electronic health record (EHR); Increase chart robustness, which can lead to increased revenue capture; Prepare our staff for medical, nursing, and physician assistant school; and Bring back the joy of practicing medicine.
Mouse Marks Graphic Design

Mouse Marks Design is an independently owned and operated graphic design firm, specializing in print media. The owner is Annie Flood, an artist and designer who grew up learning to hold a drawing pencil before learning to walk. Before college, she studied oil painting and graphite illustrations. Combined with her traditional art background, her study of graphic design at ASU rounded out her abilities as a designer, which allows her to provide unique and individualized designs for her clients. Annie received her BFA in Graphic Design from Appalachian State University in 2013, and launched her business soon after. Since then, Mouse Marks Design has been engaged by various small businesses in Fuquay-Varina, Holly Springs, Apex, and the Raleigh area.
As a print design firm, Mouse Marks can provide designs for anything that would be printed, including, but certainly not limited to: business cards, brochures, booklets, book covers, invitations, posters, fliers, signs, banners, etc. Basically, anything that has text and graphics laid out to convey a specific message to an intended audience. Other services include logo design, infographics, and digital illustrations.
Mouse Marks Design is passionate about quality design and customer satisfaction. Whether the project is a full ideation for logo development or visual branding package for an advertising campaign, Mouse Marks will work with you to develop a design that is professional grade and custom fit to your individual needs.