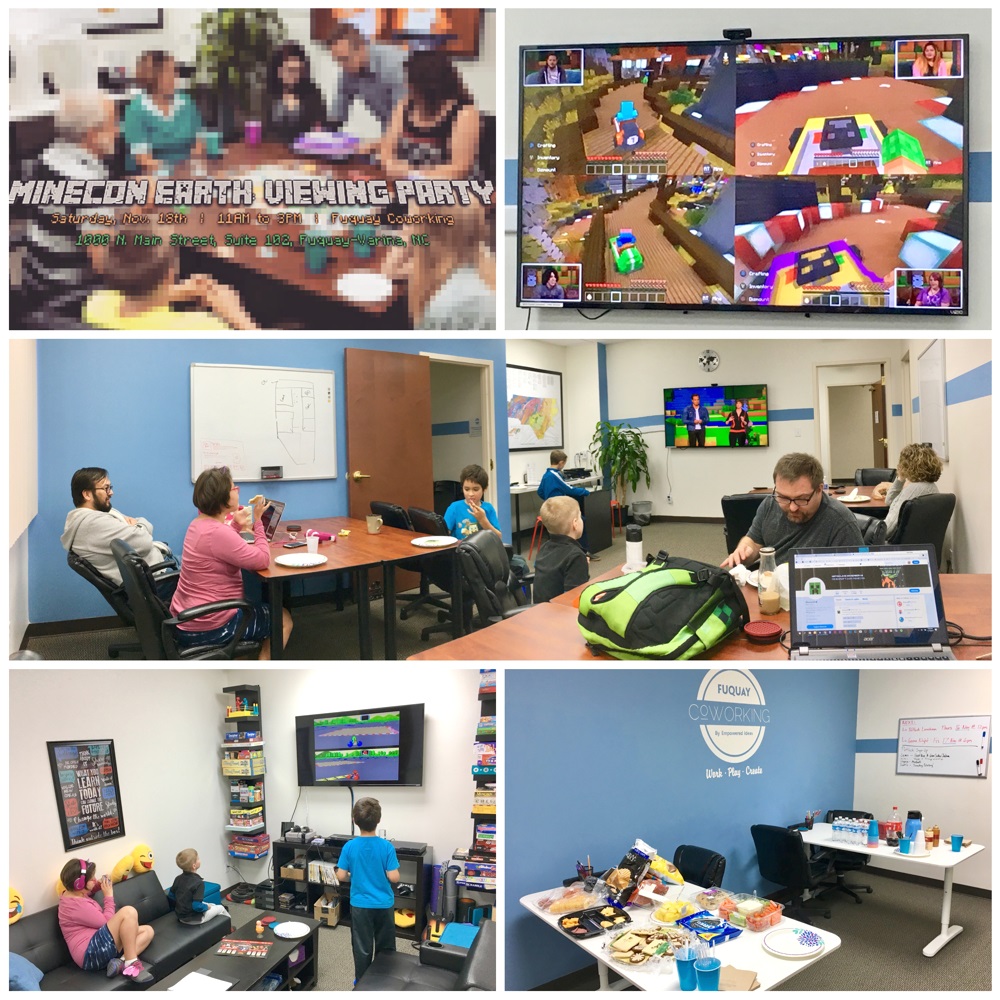 20 Nov

Visitors from Across NC Visit Fuquay Coworking for MINECON: EARTH Viewing Party

On Saturday, November 18th, 2017, the MINECON/Microsoft Team hosted MINECON EARTH, a unique and exciting live streaming event to their global audience of fans. Site all across the globe were approved as Official MINECON EARTH Viewing Party locations, and Fuquay Coworking was approved as such a venue.
"Great that you are hosting a viewing party! Hope everyone will enjoy our show we have planned. I love that you are bringing in board games and empowering the guests to bring their laptops to learn from each other!"

— The MINECON / Microsoft Team
One of the primary missions of Fuquay Coworking is to provide our members with a creative space that not only increases productivity, but also supports our membership's desire to have a better "work-life balance."  In supporting this effort, we embrace the passions and interests of our membership whenever possible. When several of our members expressed interest in having Fuquay Coworking host a MINECON EARTH Viewing Party, we immediately began organizing the event — even though the event was only a week and a half away (at that time).
The Event was Co-Hosted By:
Game Developers: Solanimus Inc. and Double Whiskey Productions; and Empowered Ideas and Fuquay Coworking.
Visitors and participants came from as far away as Greenville, NC in order to be a part of this year's MINECON EARTH event at Fuquay Coworking.  We are grateful for those who came from near and afar, to share this event with us, and overall we all had a blast. While Fuquay Coworking provided light snacks and beverages, visitors also brought quite a nice selection of snacks and beverages to share as well. This small but thoughtful gesture helped to make this event even more fun for the children in attendance. We thank everyone who contributed in one way or another to making this event a huge success!
Board games and card games were provided to visitors during the pre-party which started at 11am, and at the conclusion of the live stream at 1:30pm, participants stayed till 3pm playing Minecraft and other games available in our creative space. The event was FREE to attend and was very family-friendly for all ages. We accepted DONATIONS at the door with all proceeds benefiting the Fuquay-Varina LEGO Robotics Club, which is also based at Fuquay Coworking. Thanks to everyone that contributed to helping support our local builders and tinkerers!
Facebook Event Page:
https://www.facebook.com/events/333307990412252
Blog Post:
https://www.fuquaycoworking.com/community-events/minecon-earth-viewing-party-fuquay-coworking
#Minecraft #MineCon #MineConEarth #ViewingParty #FuquayVarina#Fuquay #FV #FVLRC #FuquayCoworking #Coworking #SouthernWake #Microsoft